The UK has recorded 157 deaths in the latest 24-hour period, bringing the total since the beginning of the pandemic to 142,835. It also recorded 38,351 new coronavirus cases, bringing the total to 9,524,971.
The UK government is to allow people to have their Covid booster jab after five months, a month sooner than under the current policy, in an effort to help stop the NHS becoming overwhelmed this winter.
Morocco will conduct rapid Covid-19 tests to passengers arriving in its airports and ports and will deny access to any visitor with a positive result, the government said.
In the first year of the pandemic, 25 children and young people in England died as a result of coronavirus infection, according to research published this week. "These results are important for guiding decisions on shielding and vaccinating children," the researchers said in the journal Nature Medicine.
Matt Hancock, the former UK health secretary, may be set to write a book entitled How I Won the Covid War. According to the Daily Mail, Hancock is in talks with HarperCollins for a blow-by-blow account of lockdown rows with ministers, aides, scientists and doctors.
A US court upheld a decision to halt Joe Biden's vaccine mandate for companies with more than 100 workers, condemning it as "staggeringly overbroad". "The mandate is a one-size-fits-all sledgehammer that makes hardly any attempt to account for differences in workplaces," judges said.
The German chancellor, Angela Merkel, urged unvaccinated people to reconsider getting their jabs, as the seven-day coronavirus incidence rate in Germany rose to the highest level since the pandemic began. "Difficult weeks lie ahead of us, and you can see that I am very worried," Merkel said.
Germany is preparing to bring in the army to assist overrun healthcare services, according to reports. Der Spiegel reported that 12,000 soldiers will be mobilised by Christmas. Among their missions will be providing booster vaccinations and tests in care homes and hospitals.
A new record Covid death toll has been reported in Russia, with 1,241 dying from the disease in the past 24 hours. There were 39,256 new coronavirus cases recorded in the same period. It came after most of Russia's 80-plus regions lifted a weeklong workplace shutdown at the beginning of the week.
Greece has once again tightened its restrictions on the number of people that can enter supermarkets, just weeks after it relaxed the measure. As of Saturday, supermarkets will only be allowed to allow in one person per 9 sq m, after the rule was eased on 25 October.
Several thousand people rallied in Melbourne, Australia against vaccine mandates. Vaccinations are voluntary, but some areas mandate vaccinations for many occupations and have barred the unvaccinated from activities such as dining out and concerts. Protests also took place in Christchurch, New Zealand.
Brazil has registered 14,642 new cases of coronavirus over the last 24 hours and 731 further deaths, the country's health ministry said on Saturday, Reuters reports.
You can follow the latest Covid developments in Australia here:
The US administered over 9.5 million doses of Covid-19 vaccines in the past seven days, the highest weekly total since late May, a White House official said on Saturday.
In total, the US administered 439,034,461 doses of vaccines as of Saturday morning and distributed 553,881,535 doses, the US Centers for Disease Control and Prevention said, according to Reuters.
The publisher HarperCollins said it is not in talks with former UK health secretary Matt Hancock and has "no knowledge" of any book about his pandemic experience.
"We have no knowledge of such a book and are not in talks," it said in a tweet.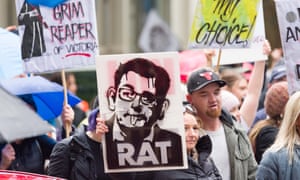 Carbon emissions, after a brief plunge last year owing to the Covid-19 lockdowns, are set to rise again by a record amount next year as countries return to their fossil-fuel habits.
Emissions must fall by 45% by 2030, compared with 2010 levels, to have a good chance of sticking to the 1.5C limit, according to the Intergovernmental Panel on Climate Change.
Three German state health ministers have urged parties negotiating to form a new government to prolong states' power to implement stricter pandemic measures such as lockdowns or school closures as the country's seven-day Covid incidence rate hit record highs.
The number of people per 100,000 infected last week rose to 277.4, data from the Robert Koch Institute showed on Saturday, and has risen to over 500 in some regions of the country.
The head of Germany's largest doctors' association, Marburger Bund, told German media group Funke Mediengruppe that overburdened intensive care units may need to move patients between regions to find beds in coming weeks, Reuters reports.
The federal government and leaders of Germany's 16 states are due to discuss new pandemic measures next week, but the three parties negotiating to form a new government have agreed to let a state of emergency, in place since the start of the pandemic, expire on 25 November as planned.
But state health ministers of Baden-Wuerttemberg, Hessen and Brandenburg argued that states needed to keep the option open of implementing policies that required a state of emergency to enforce – such as curfews, lockdowns or school closures – if the situation worsened.
"In the face of the burden on hospitals, which in some regions are close to absolute overload, the epidemic status should be prolonged on a national level," the three health ministers said in a joint statement.
The drive to get the population vaccinated in Australia is gathering momentum despite the issue dividing families and straining friendships in some parts of the country: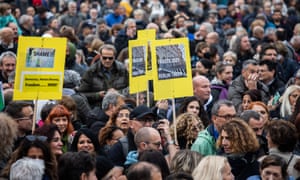 France has reported 14,646 new coronavirus cases, Reuters reports.
The country has had more than 7.26 million cases overall.
Morocco will conduct rapid Covid-19 tests to passengers arriving in its airports and ports and will deny access to any visitor with a positive result, the government said.
Travellers with a positive test must be returned at the cost of the airline that brought them into the country, unless they have a permanent residency document, it said.
Passengers visiting Morocco should also have proof of vaccination, Reuters reports.
The Covid-19 Bereaved Families for Justice UK group said any memoir by former health secretary Matt Hancock would "inevitably cause pain and hurt" for those mourning people who died after contracting the virus, and urged a rethink by the potential publisher.
The group posted on social media: "You'd think the health secretary who presided over one of the worst death tolls in the world would have some humility or seek to reflect on the many lives lost, rather than try and cash in on the tragedy.
"We'd urge HarperCollins to reconsider paying for a story that will inevitably cause pain and hurt for those of us who have lost loved ones.
"Families have a right to hear about the decisions that have changed their lives forever in an inquiry, not a tell-all memoir."
France has reported a further 16 deaths, bringing the total to 91,211, Reuters reports.
The country also said there are 1,202 people in intensive care units for Covid-19, an increase of 20.
Matt Hancock has been "approached" about writing a book about his experience as the UK's health secretary during the coronavirus pandemic, his spokesperson has confirmed, provoking anger from campaigners and the Labour party.
The former minister, who stepped down in June after it was revealed he had broken Covid restrictions, had been contacted but no deal had been made, his spokesperson said.